Google Chrome
From Longview ISD Technology Wiki
(Difference between revisions)
(31 intermediate revisions not shown)
Line 3:
Line 3:

==== Opening the Browser ====

==== Opening the Browser ====

<br>

<br>

-

Click on the shortcut to open Google Chrome

+

Click on the shortcut to open Google Chrome

<br>

<br>

-

[[File:chromeicon.jpg]]

Initial Screen Look

Initial Screen Look

<br>

<br>

-

[[File:googlescreen.jpg|200px|Google Initial Screen]]

+

[[File:.jpg||Google Initial Screen]]

==== Customize and Control Chrome ====

==== Customize and Control Chrome ====

<br>

<br>

-

Click on the tool icon [[File:wrench.gif|30px|Settings Icon]]in the top right corner of the browser window.

+

Click on the in the top right corner of the browser window

-

Click on the word Settings

+

the word Settings

<br>

<br>

-

[[File:settings.jpg|200px|Setting Choice]]

+

[[File:.jpg|200px|Setting Choice]]

+
+
+
+
+
+
+
+
+
+
+

 

+

 

+
+
+

 

+
+
+
+
+
+
---
Current revision as of 15:40, 17 September 2013
Basic Setup
Opening the Browser

Click on the shortcut to open Google Chrome

Initial Screen Look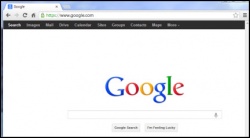 Customize and Control Chrome

Click on the three short black parallel lines in the top right corner of the browser window and select the word Settings.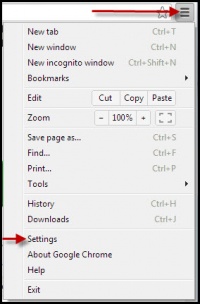 Setting Home Page
Under On startup, select the radio button next to Open a specific page or set of pages. Click the link Set Pages.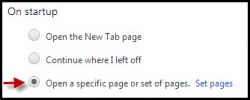 Click in the top address box and type in the web address for your home page. An example: http://www.lisd.org/proxy Click OK

Setting Home Page How To Video
Turn Off Pop-up Blocker
At the bottom of the Setting page, click on Show Advanced settings.
Scroll to the Privacy section and click on the Content Settings button.
Scroll down to the Pop-Ups section.
Click on the circle next to: Allow all sites to show pop-ups.
Click Done.