Qomo Tablet
From Longview ISD Technology Wiki

The Qomo Tablet is a wireless tablet included in the Classroom Presentation Cart.

It can be used as a wireless mouse to control the computer from anywhere in the classroom.
The Qomo tablet consists of the tablet itself, a pen, a white dongle, a Nokia phone battery, and a USB cable.
The white dongle should be located in a USB port on the front of the Presentation Cart CPU.
It is recommended that the AAA battery in the pen for this tablet is always replaced with a lithium ion AAA battery. Watch this video demonstration of the Qomo tablet setup.
Macro Key Manager
Macro Key Manager is software installed with the Qomo tablet that allows the user to set up frequently used keyboard events or hyperlinks for easy access. This software should be running in the background on your Presentation Cart computer. An icon for Macro Key Manager should be found in your Taskbar. Click the triangle icon in the Taskbar to view more icons. Look for an icon that looks like a pen writing on a tablet.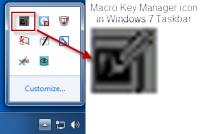 Double click on the Macro Key Manager icon (see image above) in the Taskbar.

Click New to create a new profile. This will allow you to set up the macro keys to perform functions of your choice.
Follow the instructions on the Quick Start Guide.