Samsung Thin Client Hookup
From Longview ISD Technology Wiki
Cable Connections
Remove the key at the base of the thin client. (May not have one.)
Raise the monitor.
Rotate the monitor sideways for ease of access to the connections.
Plug in the network cable, mouse & keyboard – in a straight line as pictured.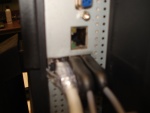 Plug the power cable snuggly into this hole. Located on the bottom of the monitor.
The toggle switch should be in the ON position (as shown).
Rotate the monitor back to the correct position, making sure the power plug is not pulled out.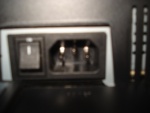 Speakers
Speaker Bar – Is attached either on top of the monitor or is placed under the monitor.
Speaker wires - Plug them into the side of the monitor.

Green audio plug into green hole
Black USB plug into one of the USB ports located close to the green audio plug.